Located in New York's Central Leatherstocking Region, Broadlawns is a convenient distance from many area attractions.
Year-round Activities
HIKING
The statewide Finger Lakes Trail intersects several roads in the immediate area, providing multiple segments to explore. The trail traverses state forest lands as well as private property with varying levels of terrain, wildlife and scenery.

FISHING
Numerous lakes, rivers and streams are within easy walking and driving distance, providing both warm and cold water fishing opportunities. The adjacent Otselic River is stocked with Brown Trout during the spring months and many of the local lakes are commonly used for ice fishing

Broadlawns Bed & Breakfast is located next to one of New York State's twelve fish hatcheries, where walleye and tiger musky are raised. Well maintained service roads surround the dozen or so ponds, providing a safe and pleasant walking area, where wildlife such as Canada Geese, Great Blue Herons, snapping turtles, and an occasional muskrat or mink may be spotted. The fish hatchery building is also open to the public on weekdays.

SUMMER
During the summer months, the area hosts a variety of fairs, festivals, auctions, weekly concerts and berry picking. Many local organizations conduct fund raising breakfasts and dinners, including pancake breakfasts, spaghetti dinners, chicken barbecues, corn beef and cabbage dinners. www.cnylinks.com
Great website for regional farms, activities and restaurants: http://madisoncountyagriculture.com/buylocalweek/
You can pick your own organic berries at Berries Blue, a Blueberry Farm near South Otselic from 8 am to 8 pm Thursday to Tuesday.
Get in 18 rounds at the Apple Creek Golf Course, only 4 miles away.
Watch the Bob Macker three day basketball tournament in July. Norwich transforms into a huge basketball court with over 400 teams playing in a round-robin tournament.
Celebrate the July 4th weekend: Ten miles south in Cincinnatus is a three day celebration with rides, food, crafts, live music, and ends with spectacular fireworks or go north to Cazenovia for a craft fair and an annual parade.
Check out the Chenango County Fair www.chenangocountyfair.homestead.com, get some antiques at the Bouckville Antique Show or dance at the Chenango Blues Festival www.chenangobluesfest.org.
FALL
The northwest corner of Chenango County contains approximately 80,000 acres of state forest lands, where there are opportunities for small and big game hunting. http://nysparks.state.ny.us/
In September, Norwich hosts a multi-day event called Colorscape. It features juried arts and crafts, live music on the courthouse steps and plenty of delicious food. Free admission and free parking. www.colorscape.org

WINTER
A designated snowmobile trail is located nearby, connecting the hamlet to other communities throughout the region. www.snowmobileny.com
Cross-country skiing and snowshoeing are available at several nearby locations, and downhill skiing is offered at Greek Peak near the village of Marathon, about 25 miles away. www.greekpeak.net

SPRING
Fishing Heritage Day is an annual event, the third Saturday in May, in South Otselic that highlights the area's fishing history. There are arts and crafts, musical guests, fishing clinics for children, fly fishing for adults, food and fun. www.ovfish.org

Maple Festival in Marathon, NY April 1 and 2, 2017

Suggested Day Trips
Several attractions are located within a 2-hour drive of Broadlawns:
Cooperstown
Finger Lakes
Adirondack State Park
Upper Delaware River Valley
Catskill Mountains
Syracuse and Binghamton are both located within an easy hour's drive and provide a host of activities and sights to enjoy.

Current travel guides and community event calendars are available for guests' use in the upstairs common area.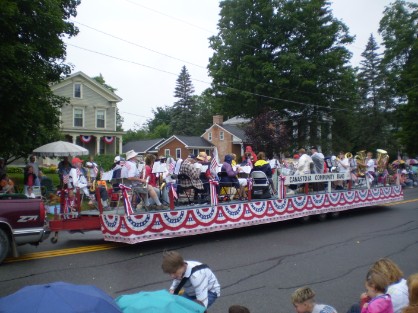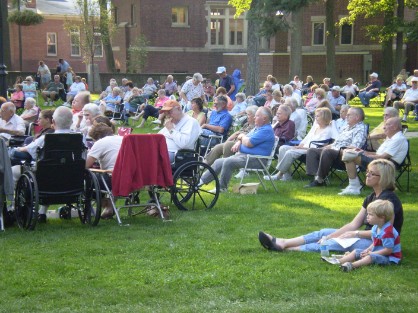 Some of the many annual summer festivals in the Central New York region.
Broadlawns Bed & Breakfast
1567 State Highway 26
South Otselic, NY 13155
Phone: (315) 653-7490 or (607) 244-2447

Email: blawnsbb@gmail.com
Hosts: Cal and Sarah Hite