A microburst is a very localized column of sinking air, producing damaging, divergent winds at the surface that are similar to, but distinguishable from, tornadoes.
A microburst often has high winds that can knock over fully grown trees.
-Wikipedia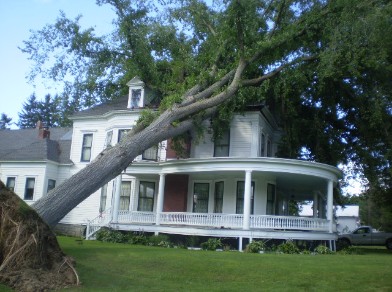 At 9 pm July 24, 2010, a microburst damaged many historic buildings in South Otselic, including Broadlawns Bed & Breakfast.
The very large American Elm tree on the south side of the house was uprooted and fell slowly onto the double chimney, where it came to rest.
Damage throughout the interior of the house was extensive, cracking the plaster walls and ceilings on both the first and second floor. The roof supports were either broken in half or severely damaged. Timbers supporting the widows walk were bowed dramatically.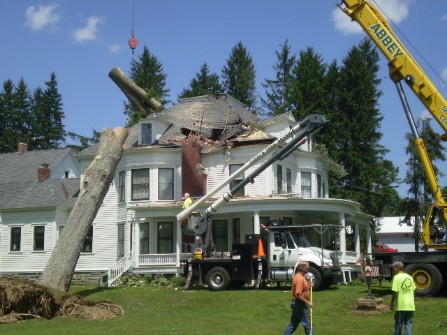 On Tuesday, July 27, the equipment was finally in place to begin the task of tree removal.
Each branch was estimated to weigh approximately 1000 pounds. An 80 ton crane lifted each branch safely away from the house.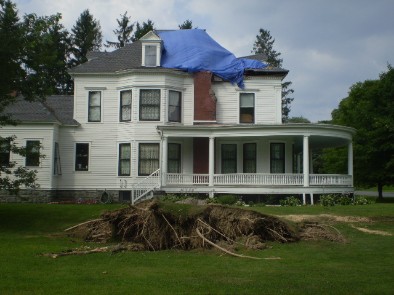 Once the tree was removed, the contractors braced the roof and tarped the hole.
The roof on both the south and east sides was totally replaced, the dormer up-righted, the walls repaired and re-plastered and either painted or wallpapered, and the double chimney rebuilt to its original 1908 spectacular detail.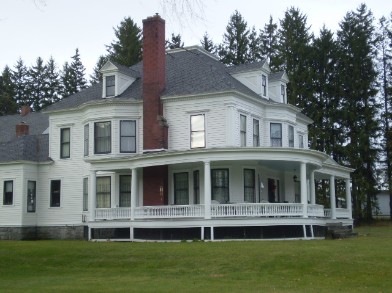 Broadlawns Bed and Breakfast is open for business!
Please call or email for reservations.

Broadlawns Bed & Breakfast
1567 State Highway 26
South Otselic, NY 13155
Phone: (315) 653-7490 or (607) 244-2447

Email: blawnsbb@gmail.com
Hosts: Cal and Sarah Hite