ABOUT THE OWNERS
Cal and Sarah Hite moved to the small hamlet of South Otselic in February 2007, becoming the 4th owners of this historic property.
Cal is a retired National Park Service employee and Sarah is a retired assistant teacher. They both share a keen interest in local history, the outdoors and collecting antiques. They stay busy volunteering locally and tending the two gardens. They enjoy reading and traveling, and meeting the many guests who arrive at their home.
Cal and Sarah strive to create an environmentally-friendly atmosphere for all of their guests with energy star appliances, a solar powered attic ventilation, maintaining an organic garden and by recycling.
Our Pets

The very shy tri-colored cat, Abby, usually remains among the missing when guests stay at the house. A new kitten, Shadow, arrived the fall of 2012 and she loves to play and run through the house, except for the bedrooms!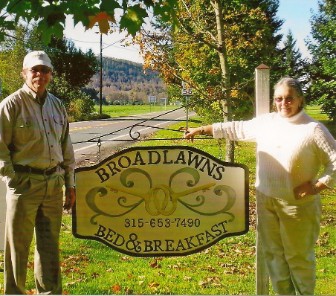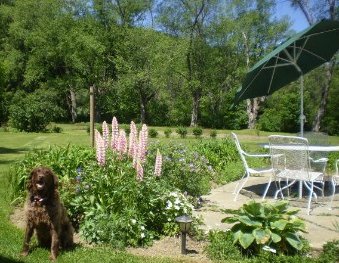 ORIGINAL OWNERS
The Colonial Revival-style home was built by Holden and Flora Mathewson in 1908/09 at a cost of $25,000. Holden was a partner at the local Gladding Fishing Line Company.
The house is 2.5 stories, sits on a rusticated stone foundation and is capped by a hipped roof with gabled dormers. Inside, it retains its original oak woodwork, paneled pocket doors and an expansive center hallway with a full ceiling-to-floor mirror.
Due to the extensive preservation of the home's craftmanship, it was successfully added to the National Register of Historic Places on October 23, 2009.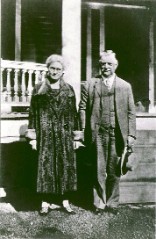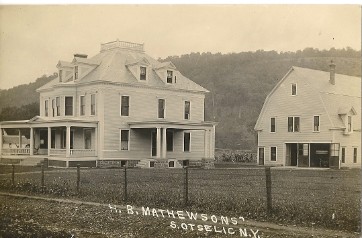 Flora and Holden Mathewson
SOUTH OTSELIC: Past and Present
The small hamlet of South Otselic was designated a National Historic District in 1983. It's rich history stems from the former Gladding Fishing Line Company, which earned South Otselic the title "Fishing Line Capital of the World". The company was once located within sight of the house, but today a smaller factory exists, producing rope and cordage.
There is a bank, a post office, gas station, a thrift shop, two churches and a hair salon in town. Additionally, the Daily Grind offers great locally roasted coffee and homemade meals/pastries and features works from local artists. The Lunchbox is open for breakfast or lunch and the Burgh offers ice cream and fast food during the summer months.

Broadlawns Bed & Breakfast
1567 State Highway 26
South Otselic, NY 13155
Phone: (315) 653-7490
Email: blawnsbb@gmail.com
Hosts: Cal and Sarah Hite